Natalya Vorobieva: Wrestling on behalf of Russia and Women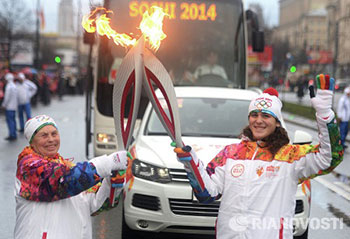 Natalya Vorobieva: Wrestling on behalf of Russia and WomenMichael Riorda
Height: 172 cm
Weight: 73 kg
Place of Birth: Tulun, Russia
 Where Natalya Vorobieva comes from, girls didn't wrestle.
Tulun, a city of 45,000 people in central Siberia enjoyed a rich wrestlingpast, and by 2001 women across the world were preparing for the 2004Olympic Games. These women were going to be the first to include femalewrestlers and to local coach Kamil Dzhiganchin they had an opportunity tobe trailblazers.
But opportunity was hard to see, and Vorobieva remembers the coach finding very few willing pupils.
"Kamil [Dzhiganchin] came up to me and asked if I wanted to wrestle," Vorobieva recalled. "There were about 20 of us – girls – there. Everybody ran away, but I stayed. It was he who taught me how to wrestle, and all the other coaches only corrected and improved my technique."
Little did they know then that the meeting between Dziganchin and Vorobieva would yield such magical results. By introducing her to wrestling, Dziganchin set Vorobieva on a path that would take her all the way from her from her small Siberian hometown, to a gold medal in the London Olympics.
Now after all these years, Vorobieva, a self-professed tomboy as a girl, appreciates the opportunity she received, and remains a passionate advocate on behalf of women's wrestling. She has not forgotten the critics from her youth, those who wanted to exclude females from competing on the mat, who felt girls were better served pursuing more traditional activities
"I got fed up with people saying that wrestling is not for girls. People say it like twice a day. But it's the 21st century. In the earlier days a woman was sitting at home, bringing children up and cooking borsch."
Vorobieva remained undeterred in the face of naysayers.
"I was repeatedly told that wrestling is not for women. But everybody has his/her own point of view. There are so many things that a woman should not do, but to put it more accurately – she should do. She should sit at home, cook and so on. But we live in the 21st century, many things have changed – women drive a car, do business and run enterprises."
"Why not wrestling?"
 To succeed in the wrestling, she even had to fight the preconceptions of her parents.
"My parents were absolutely against my idea, especially my mom. But later she was the one who understood me well."
Her struggles have paid off. He's the reigning Olympic champion and enjoys praise throughout Russia. She even received the honor of carrying the Olympic torch for the Sochi Olympics through the streets of Moscow. Wrestling has taken her quite a long ways. Geographically she has traveled all over the world, and social she has traversed from derision to celebration.
Her journey started in her birthplace of Tulun in eastern Siberia, in Russia's Irkutsk Oblast. She began wrestling under her first coach Dzhiganchi in 2001. Early in her competitive career, she went through some tough times, and on several occasions even wanted to quit. However, Dzhiganchin saw the potential in her, and he always found a way to convince her to press on. Her coach's persistence paid off, and soon she had learned all she could from him in Tulun. At the age of 16, she moved to across Russia to train in St. Petersburg, and take her wrestling career to the next level.
World-level success soon followed. In 2009, 2010 and 2011Vorobieva won a staggering three FILA Junior World Championships in a row. She looked poised to do big things on the Senior level, perhaps even represent Russia in the 2012 Olympics.
To make the team for the London Games, Vorobieva would first need to overcome a tough field at the 2012 Russian National Championships. She would ultimately prevail, beating Senior World silver medalist Tatiana Morozova. The local competition bested, Vorobieva was free to focus on accomplishing great things in the biggest competition of her life.
"I didn't think about the idea of winning gold because the competition to get in to the Russian team was extremely hard," says Vorobieva. "But the moment I learned I was in the team I knew that I would be there standing on the podium getting the gold medal."
For Vorobieva to get that gold medal, however, she would have to face off against reigning world champion Stanka Zlateva of Bulgaria in the gold medal final, Zlateva's second consecutive Olympic finals. Though Zlateva had more Senior level accomplishments, Vorobieva remained confident.
"When I go out on the carpet [I have] no fear. There is an interest to show the whole arsenal of techniques that [I practice] in training."
Vorobieva dug deep into her arsenal of techniques in order to ensure victory against Zlateva. The Bulgarian won the first period, and Vorobieva had a mere two minutes to make something happen and stave off defeat. She acted decisively, tightly controlling Zlateva's arm and executing a perfect fireman's carry, dumping the world champion to her back, and securing the victory by pin. Vorbieva had prevailed in her quest for an Olympic gold medal, she stood, raised her arms in the air and, overcome with elation, fell backward onto the mat.
If Vorobieva has her way, many more triumphs await in her future. She still seeks to win her first European and Senior World championships, and the 2016 Olympics loom on the horizon. Beyond wrestling, she currently pursues an economics degree at St. Petersburg's prestigious University of Aerospace Instrumentation, and one day would like to open a wrestling school in back in Tulun. A marriage may lie in store in the years to come, perhaps to the man who gave her the plastic bunny she carries with her to every competition, a talisman from someone she loves.
Vorobieva bought Dzhiganchin a car after the Olympic Games. She added a red bow to the hood to show her appreciation for his commitment to her career.
Despite Vorobieva's early struggles for recognition, the Russian people have started to show their gratitude for her courage on the mat. Earlier this year, a statue was built in Vorobieva's honor. She stands with her hands on her hips, immortalized in bronze and emanating the joy she radiates during competition.
"They built a monument in my lifetime," she said, laughing.
"Someday I'm old and sick woman. I come to this monument with his grandchildren and show them what they had Granny beauty at 22 years."
What Vorobieva did not mention is that by the time she becomes an old woman, women's wrestlers throughout Russia will likely know her as one of their foremost pioneers, a woman who struggled on their behalf, and who won acceptance for their sport.
[embed]https://www.youtube.com/watch?v=FrUUe6YFSVg[/embed]
 Source
http://www.fila-official.com/index.php?Itemid=100235&lang=en&option=com_content&catid=60%3Aactualite&id=1128%3Afila-legends-2012-olympian-natalya-vorobieva&view=article